4th of July Weekend
What a great 4th of July! See pics from the 4th of July parades, Nora at the
Brookfield Independence Day
Parade, John Moore at the
Hyde Park 4th
Parade, the Skokie 4th Parade and the Evanston fourth of July Parade. And don't forget the Kerry crew who worked the
Taste of Chicago
on Saturday.
Please post your comments about the events of this weekend. Did we miss any events?
Evanston Parade
The picture below is from the Evanston parade where 200+ upbeat Democrats marched to loud applause and in some sections standing ovations. The Kerry and Obama line was half a football field in length and bursting with enthusiasm. When passing the Republicans on the parade route, they started chanting "4 more years." In response, Kerry supporters showed quick whit by starting a chant of "4 more months." This cheer ended up being the best received and most fun on the march!
Sen. Durbin even dropped by to talk and take pictures with Kerry supporters after the parade. A special thanks does out to Shira Gordon and her mother for providing T-shirts for 140+ Kerry supporters. Thanks also to the
Democratic Party of Evanston
and
Larry Suffredin
for providing a fantastic pre-parade barbeque.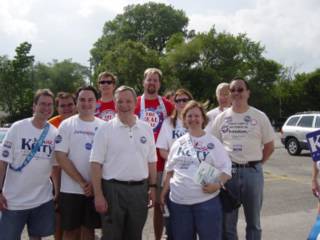 Kerry Supporters with Sen. Durbin