Team Kerry Blankets the Custer Street Festival
The
Custer's Last Stand
street fest, the largest festival in Evanston, is one part funky, one part hip and another part artsy and definitely the event to be at in the Chicagoland area on the third weekend of June. Volunteers manned a booth Saturday and Sunday to distribute literature, lapel stickers, buttons, signs, and bumper stickers. With over five hundred buttons and three thousand lapel stickers distributed, the crowd was awash in Kerry blue. One of the crowd favorites, songwriter and guitarist
Kraig Kenning
even remarked to the crowd how good it was to see all the support for Kerry and received a loud applause.
Team Kerry signed up a few hundred more volunteers who want to help out with the campaign. Get ready Chicagoland, we are running the largest volunteer manned phone bank for the campaign in November into the battleground states!
The
Democratic Party of Evanston
was also registering voters at the event. We can only hope those Kerry stickers made easy targets for the voter registration folks. ;-)
A special thank you to Shira and Adelaide for organizing the event and setting up the booth. Thanks to all the other volunteers who came and worked: Ashish, Collen, Anna, Mark, Joe, John Lee, Barb, Rich, Barbara, Thea, John U, Susan, Frank, Jason, Barbara, Joanne, Rowan, Lesley, Nell, Sue, Angela, John B, Stacy, Dora, Leo and Daniel. Thanks also to Christine at the
Julie Hamos
campaign for helping the group out several times with different.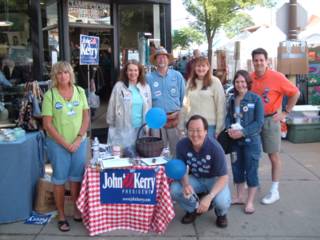 Team Kerry on Saturday