Chicago Grassroots Welcome Avis LaVelle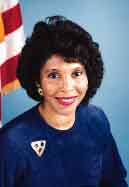 Avis LaVelle
has been named the new
Illinois Field Director
and is expected to officially start with the campaign on July 1st. What a fantastic choice! Besides having a wealth of campaign experience, Avis has deep roots in Chicago. Having Avis in a visible leadership role will significantly broaden John Kerry's appeal across all demographics.
Highlights from Avis' Background include:
· Campaign Manager for Mayor Richard M. Daley (99)
· Press Secretary Mayor Richard M. Daley
· National Press Secretary President Bill Clinton (92)
· Assistant Secretary for Public Affairs for the Department of Health and Human Services
· Vice President Chicago School Reform Board of Trustees
For more information, read a more extensive
bio
from the Chicago Public Schools.